You'd be surprised how many people look at your Facebook profile in a month; this is unsurprising given that Facebook is a social medium, and people look at your profile to connect, interact, or even stalk you. Take advantage of this opportunity to market and promote your business, and I'll show you how.
I spend a lot of time on Facebook, sharing other people's content, messing around, and airing my views, ke sharist basically. I know, I know, Facebook can be very addictive and too much of it can be a bad habit, but that doesn't mean you can't turn your bad habits into good. If you're like me and spend the majority of your time on Facebook, and you own a business, I have a suggestion for you. It's not much but it's worth a try.
The Tip: Add your Facebook Business Page to your personal profile, and make sure the link to your Facebook page is clickable; this allows visitors to your personal page (and stalkers) to easily access your Facebook business page and discover your Business.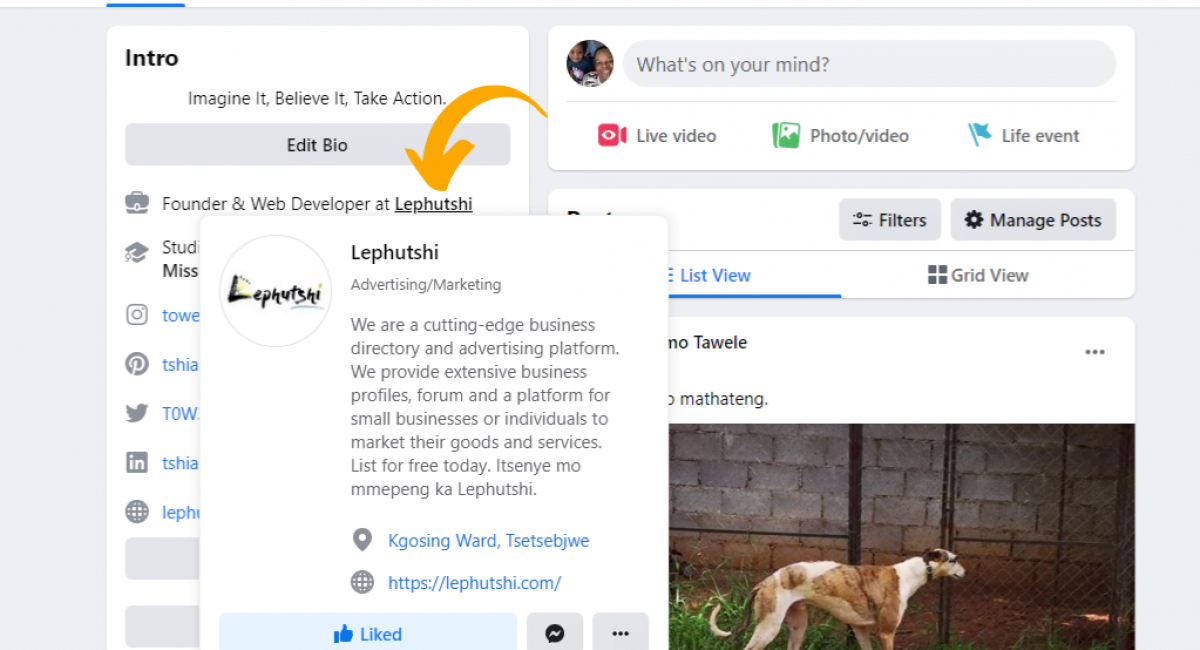 I'm sure I'm not the only one who looks through people's profiles to see what they've done and where they went to school, le wena wa dira. Why not take advantage of the fact that we're both stalkers and know people look through our profiles? It does not have to be Facebook, but any social media platform on which you spend time. If you haven't already, start directing your "personal profile visitors" to your Facebook Business page and converting them into customers.
How to do it? Click "Work and Education" and then "+ add a workplace" on your personal Facebook profile's "About" section, and this is how you'll fill out the form fields;
Business: This is the most important field; you must ensure that your business page is clickable. To do so, type '@' followed by the first few letters of your business page; your business page should appear in the drop down menu. There's a video and pictures below to demonstrate this, oskawara.
Position: Fill in the position or role you play in the company, such as Founder, Web Developer, Marketing Manager, and so on. This can also help you promote yourself if an employer is looking for someone to fill a similar role in their company.
City: Fill out the city/town where you Business is located.
Description: Fill out your company description or simply copy and paste the one from your business page. This is an important aspect of your business; people need to know what you do, how you do it, and what products and services you offer. I'll write a separate blog post about it.
Select Audience: Make sure this is set to "Public" so that everyone can see your work status.
That's all there is to it; now people can access your Facebook business page through your personal Facebook account. Don't get me wrong, I'm not saying you'll gain thousands of followers overnight; rather, this is putting you in the right place for people to discover your business.
One thing I've discovered is that this method of marketing your business works best when you interact with other people's posts, such as liking, commenting, and even sharing their posts. Find a business-related group ya Botswana, engage and share valuable content, and basically get people to open your profile and, eventually, your Facebook business page. You can also ask your employees or family/friends to include your company in their profiles.
So ngwana ko gae, implement this on your personal profile to increase your following. It would also mean a lot to us at Lephutshi if you listed your company with us, followed us on social media, and shared this with a business-owning friend. Tanki for your time and here's a video showing how to put the Marketing tip we discussed into action.